Posté le vendredi 19 janvier 2007 à 7 h 37,
Read it in english with Google
for this post I decide to write it in english! yeah all right!
why ? I don't know… maybe is the title which inspired me 😀
non allez j'arrĂšte je serais pas capable d'aller plus loin surtout ? cet heure l? 🙂
Alors voilĂ  les versions standalone de IE : ce sont des versions qui n'ont pas besoin d'ĂȘtre installĂ©, donc on peut lancer 4 fenĂȘtres d'Internet Exploreur de diffĂ©rentes versions chacune. C'est magnifique. Non c'est pas magnifique de laisser 4 merde qui vont de la puanteur la plus abjecte (celle de la merde bien fraiche) Ă  l'odeur d'une fiande en voie de dĂ©composition. NĂ©anmoins puisque que nous on est le pĂ©cu du net, il faut savoir Ă  quoi on se frotte.
voici donc la compilation entiĂšre : ie-standalone.zip
Elle ne comprend pas encore IE 7. Allez un petit screen :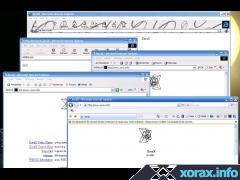 faite gaffe ça provoque des nausée!